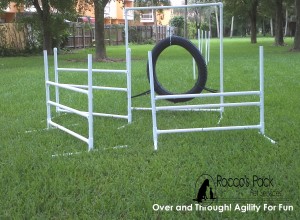 Offered for those dogs and owners that just want to jump around and get "Over and Through!".  This is a fitness class that incorporates the use of agility equipment.  The main objective is to exercise, have fun and improve your dog's off-leash obedience.
To sign up for classes:
1) Complete the enrollment form below
2) Make payment online or using cash or check the first day of class
Please arrive approximately 15 minutes before the start time, so you and your pooch can acclimate to the environment.
[learn_more caption="Class Day, Time and Location"] Starting Sunday, October 20th at 9:00am at Haulover Park[/learn_more]