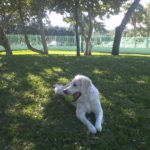 Here she is retrieving and then effectively guarding.
Since I've been thinking a lot about resource guarding and trying to understand it a little better.  I started to think about ways I could make Goldie willingly, on her own give me her toy.  One thing that occurred to me is that she first has to trust and like me.  So we spent the days in the park going for walks.  I would walk, call her and when she came, I would reward her.  The whole time that she walked by my side, I'd verbally mark her behavior with a high, happy pitched "Goooood"!  Constantly using the same verbiage, which consisted of "Goldie, Come", "Gooooooood" and "Let's Go".  Remember, English as a second language for these guys.  She did well with that.
Next step was bringing out the frisbee.  The first few times she got the frisbee, she was clear with Stella and Rocco that they weren't gonna have it.  I tried going over several times and she ran even further and shoved the pups away.  So I turned the other way, called Rocco and Stella and created fun for us away from her.  Pretty soon she found herself all alone with the frisbee.  Yikes!  What fun is that?  Meanwhile, Rocco and Stella are over here having all sorts of fun, running and getting praise and rewards for doing all kinds of neat things.  She soon realizes she wants to be part of that and rejoins us.  When she does, frisbee-less, she is welcomed, praised and reinforced for following using the same verbiage of "Goooooood", "Let's Go" and "Goldie, Come".
The next step…drumroll please!  I introduced a game of trade.  I gave her the frisbee and asked her to trade for a treat.  And SHE DID!  So I gave it to her again, and asked to trade for a treat.  SHE DID AGAIN.  So I did it again and again .  You may know the drill.  If you've heard me say it once, you've heard me say it a million times.  Two times two is four.  Two times two is four.  They made you do it so much, you learned it.  Someone asks you now, "what's two times two"?  You don't even think about it.  "Four".  IMHO repetition is key when you work with your dog.
As we drove home on Goldie's last day with me, I thought she came along way and did really well with these exercises.  I could say that for her, holding on to toys is a very emotionally charged experience, but suffice it to say that it's just a very big deal.  And this game of "trade" is certainly a better alternative to being rough and helps to develop a nice bond and a trusting relationship.