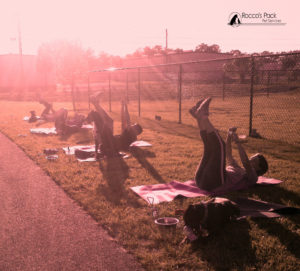 Designed with exercise and dog fitness in mind this class allows you to incorporate your dog into your fitness routine.
[box] Does your dog need more exercise?[/box]
[box] Do you need more exercise?[/box]
[box] Do you like to spend time with your dog?[/box]
If you answered yes to any of the above, how about some dog fitness classes for the soul, for the body and for the human-animal bond?
Here's the scoop… before your first bootcamp session, you must have a brief one-on-one.  This way, you and your dog will know what to expect when you come the first time.  Your dog needs some basic obedience.  This is not a puppy class and you must be able to control your dog on leash.  There will be no off-leash play times during dog fitness classes, dogs will not be allowed to socialize.  This is all serious butt-kicking stuff.  Just kidding, but seriously, no off leash!  Classes will start in July-August on Sundays at 8am.  Who's in?  Fill out the interest form and we'll go from there.
To sign up for classes:
1) Complete the enrollment form below
2) Make payment (cash, check or credit/debit card) the first day of class
Please arrive approximately 15 minutes before the start time, so you and your pooch can acclimate to the environment.