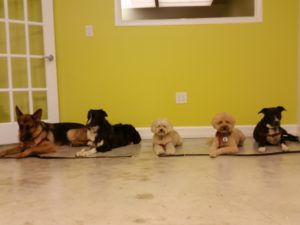 Day training occurs on Tuesdays and Thursday and consists of:
field trips
exercise
training
environmental enrichment and
socialization
Drop off at Rocco's Pack is between 8:30am and 8:45am.  Once everyone is droppped off, we usually do a short walk to burn off the initial energy and excitement about being at Rocco's Pack!  Then we go for our outing.  Outings vary from week to week; they usually consist of a local dog park, a dog friendly scenic destination where we can do a group walk or a dog friendly swimming destination.
After the outing, we come back to Rocco's Pack and everyone gets a chance to rest a bit and re-energize for training.  Usually, during this time, dogs are given dog puzzles, games or other environmental enrichment options.
The afternoon consists of training, often times occurring one on one and in a group, depending on the dogs needs.  Intermittently throughout the afternoon, dogs are rotated throughout the various activities, i.e., one on one training, group training, environmental enrichment, socialization sessions and walks.
It's by far the most comprehensive type of training you can give your dog without having to leave him overnight.
If you're a first time day training client, we require that you enroll your dog in 4 consecutive day training sessions to start off.  This gives us an opportunity to get to know your dog and assess your dog's social needs and limits as well as training opportunities.  After the initial four sessions, you can bring your dog as often or as little as you'd like.  Just let us know and we'll reserve a spot for your pooch!