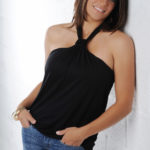 Twenty years later, my friend is a talented photographer and beautiful person.  She tells me, "everyone is beautiful" and her lifestyle photography captures the beauty of people doing what they love.  When I asked exactly what IS lifestyle photography, she described it as studio sessions incorporating objects used to fulfill the passion or talent of the person she's photographing.  See for yourself: http://www.cristinaperezphotography.com/
When I was in her studio, I also got to see some of the beautiful landscapes she's captured.  Dumbfounded and in awe, I sheepishly asked, "but how do you know if what you see, is going to make a good photo"?  She explained that a good photographer has the gift of knowing a good composition when they see one.  "oh", I replied, "well, are you ever surprised"?  She thought about it for a moment then began to tell me about her Chihuly abstract pieces taken at the Bellagio in Las Vegas.  She said, "I was blown away when I saw them on my monitor and even more so when I printed them".  So I asked to see, and when I did, I thought one thing followed by a million other things.  First I thought, "this is the kind of work seen in a gallery".  Then I thought, "I want her to photo me", "I want her to photo Rocco" and "I want to share her talent with everyone I know".  But the most brilliant thought I had was, "I want her to join the pack"!  That's right!  Rocco's Pack!  We're cool, hip and groovy.  Aren't we?  We are ONE cool pack!  She'd love to be part of us!  I told myself this several times and then finally, got the guts to ask if she'd come to Rocco's Birthday/Holiday Party.  To my surprise, she agreed and I was elated.
Ladies, gents and hounds from near and far, we bring you Cristina.  She's my friend from seventh grade, she's talented as heck and she'll be at Rocco's Celebration this Sunday.  She'll be there to capture you and your pooch in your best holiday look.  Don't miss it!  The best part is, out of pure kindness and generosity, she's agreed to one complimentary digital image.
Learn more about my fabulous friend at http://www.cristinaperezphotography.com/  and "Like" her page on Facebook where you can learn about and contribute topics for her ongoing photojournalism series https://www.facebook.com/cristinaperezphotography.  But most importantly come out and meet her this Sunday.  Here are the details:
Sunday, December 18, 2011
1:00pm- 3:00pm
Bone Zone at Gwen Margolis Park
17815 North Bay Road
Sunny Isles, FL 33160