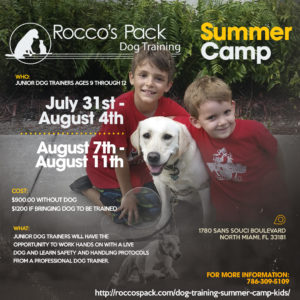 Dog Training Summer Camp for Kids
WHO: Junior dog trainers ages 9 through 12 will be provided a puppy to work with, however, if they wish to bring their own dog who needs training, an additional fee will apply.
WHAT: A unique summer camp experience where junior dog trainers will have the opportunity to work hands on with a live dog and learn safety and handling protocols from a professional dog trainer, as well as participate in dog training activities, like tricks, agility and other fun games.
WHEN: July 31st through August 11th (Monday through Friday).
WHERE: Rocco's Pack Dog Training
A limit of ten spots are being offered.