Have you ever chased a dog after it almost got run over? If you've caught it, and then thought to yourself, "maybe I CAN have another dog", or "how will my pack react to a new dog at home?", then you should read on. Bella is a sweet female Basenji mix who didn't always have it good. She was found in the streets of Bal Harbour, slashed face, hookworms, and running from everyone and everything. After struggling for hours to get her, Susana, in true private investigation mode, was determined to find her owners. She called on everyone from city officials to fisherman. She put signs and ads up all over the neighborhood and internet. She took her to the Humane Society and checked with other rescue organizations and after exhausting all options she made an agreement with a local pet resort for temporary housing of Bella.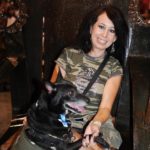 After her experience with Bella, Susana said to me, "She taught me real dog things. The Chis just wanna shop and sip cappuccino, but Bella's different. It took Susana over a month to properly introduce Bella to her 3 dogs. Baccarat, the eldest in Susana's pack, had the most trouble. Susana did everything from Google searches to basic obedience and socialization classes. She read lots of books and learned in depth about Basenjis. "Learning about Bella's breed helped me understand her behavior and how best to create situations where she could exercise her natural instincts". Hmm, I thought, maybe instead of chasing after that retriever when he picks up things with his mouth, why not teach him to "give it"? Retrievers are very mouthy. And I know from experience, mine is always looking for something to put in his mouth. His new thing now, is he greets me with anything in his mouth. I can picture him as the key slides into the key-hole, perking up and thinking "must retrieve her something, STAT! Remote control. DONE". Well, at least we've stopped the jumping. I hold my hand out, ask him to "give it" and he proudly, feeling like he's a superstar, complies and proceeds to find something else he can bring me.
Check out these photos of how Susana's made Bella a superstar at what she does.