So we ventured out looking for some new places to hang out and we found this fun spot in the heart of West Kendall.  It's called West Kendall District Dog Park at 11255 SW 157TH Ave, Miami, FL 33196.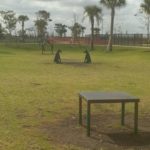 The goods: Plenty of space, lots of doggy exercise equipment.
The bads: No poop bags…Please people, don't steal the poop bags.  The county is already being super generous by letting us have this big space for our dogs!!