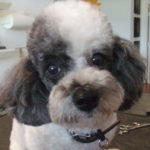 If you can picture the nicest groomer; talented, knowledgeable and personable, then you're probably picturing Jose, from Miami Doggy Style Pet Grooming and Spa.  From the first day I met Jose, he's been nothing but welcoming and pleasant.  And when I saw the kind of work that Jose does, I couldn't resist the opportunity to share with all "pack" members.
Jose's grooming salon, Miami Doggy Style Pet Grooming and Spa is the official pet grooming salon of Aventura and he's located in the Waterways Shopping Center at 3575 NE 207 Street, Suite B-2, Aventura, FL 33180 and its telephone number is 305-933-4003.  Jose's services include everything from baths to full premium grooming services to make your baby look absolutely fabulous.  One of my favorite things about Miami Doggy Style Pet Grooming and Spa is that in addition to a great service, your doggy will also be able to roam around and socialize with the other dogs that are either waiting to be groomed, or waiting to be picked up.  So if your dog is not so social, this is a great way to socialize him/her.  And if your dog is not a big fan of being in a kennel, then this is the perfect place for him/her.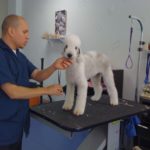 Jose is extremely professional and knowledgeable so when you leave your pup with him, you can rest assured she/he's in good hands.  Call him today to schedule your appointment and tell him Rocco's Pack sent you to receive $5.00 off your total service.  Go ahead; give your dog a spa day!
And as an added bonus, we do our obedience training classes here at the salon.  So, come on by get groomed, get trained and get LOVED!