If you're ready to really get that doggie mind going, applying the principles of shaping, catching and luring, come out on Friday mornings to East Greynolds Dog park for our fun dog training tricks class.  We'll meet once a week for 5 weeks at 9am under the Gazebo.
[learn_more caption="Class Prerequisites"] Dog must be socialized
Collar or Harness and Leash
A mat or towel for your dog (and one for you too)
Water
Small, chewy treats
At least basic level of obedience
A clicker (or the use of an equivalent marker)[/learn_more]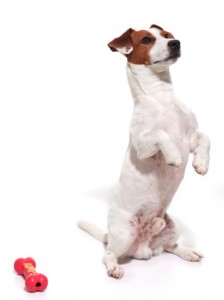 To sign up for class:
1) Complete the enrollment form below.
2) Make payment online after submitting your form or in person the first day of class using cash or check.
Please arrive approximately 15 minutes before the start time, so you and your pooch can acclimate to the environment.
[button link="http://roccospack.com/about-roccos-pack-pet-services/our-philosophy/group-training-events/group-classes-at-east-greynolds-park/" type="icon" icon="question"] Click here to learn more[/button]